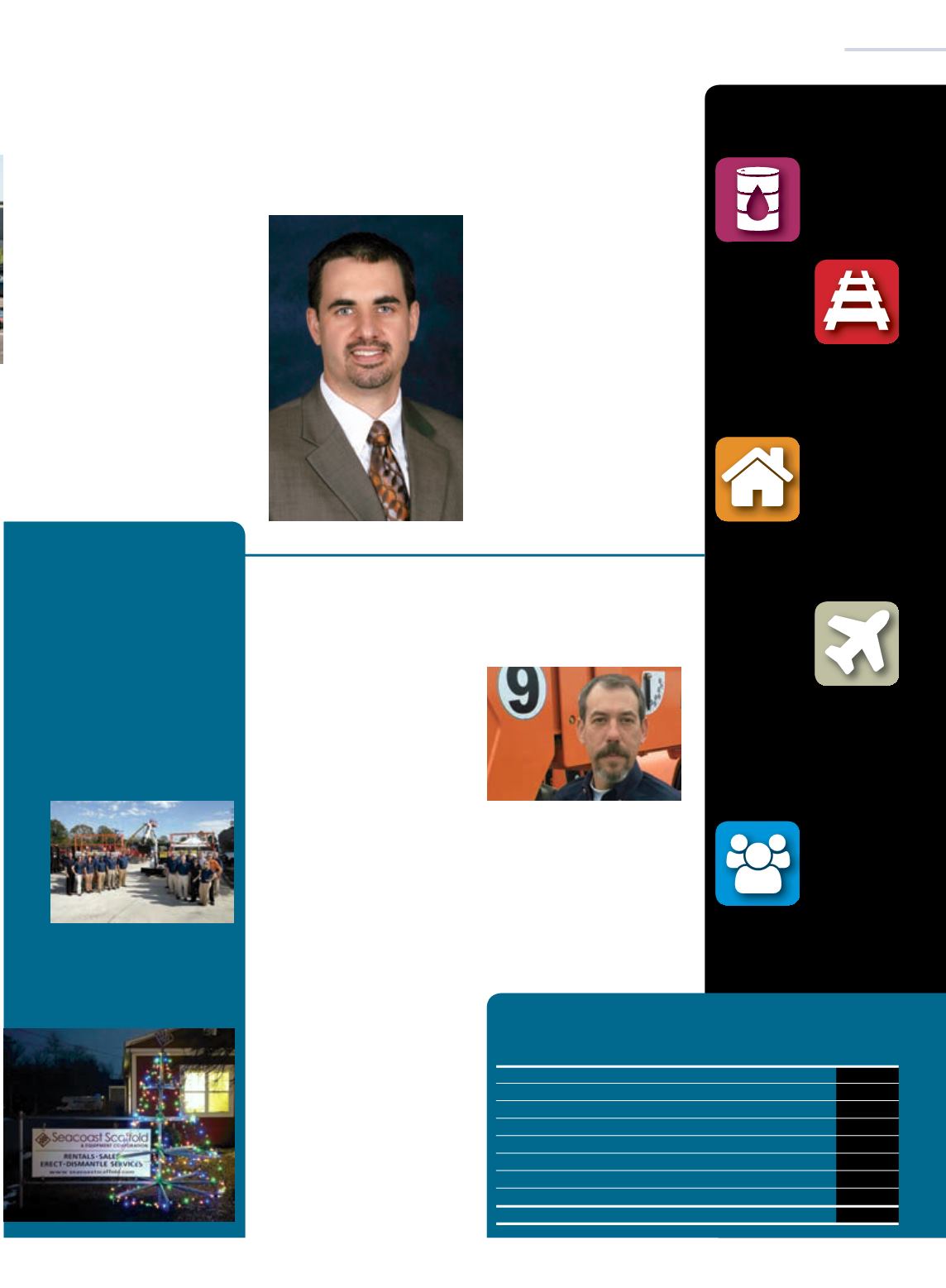 JLG Industries, Inc., anOshkosh
reorganized its aerial work
platform (AWP) product marketing
Jeff Ford, currently global
category director for boom
lifts, will become director of
global strategy and business
development. Fordwill lead
market, customer and competitive
assessments, long-range strategic
planning, strategic pricing
initiatives and development
of newmarket and business
Corey Raymo, currently global
category director for scissors,
will become global category
director for boom lifts. Raymo
will be responsible for leading
the product, strategy and go-to-
market activities for all boom lift
Paul Kreutzwiser has joined JLG
as the global category director,
scissors/verticals. Kreutzwiser has
more than 12 years of marketing
experience in the AWP industry.
Hewill lead the product, strategy
and go-to-market activities for
the global scissors and vertical
All three positions report to Alan
Loux, JLG's global vice president
Residential housing'sgain in
November –marking its third
consecutive rise.
Planned lengthof the
CaliforniaHigh-SpeedRail
network.
Number of United flight
attendants firedafter
refusing toworkdue to the
words "byebye"writtenon
theplane's fuselage.
Visitors expectedat this
month'sARARental Show in
Orlando
Priceof a
crudeoil
barrel asof
Jan. 7.
wholesale lifting equipment
rental and sales company, has
launched a new used equipment
sales and purchase service.
Available inventory includes a
wide selection of pre-owned and
re-conditioned booms, scissors,
telehandlers andmore. Leading
the used equipment department is
Mike Ferguson, used equipment
Ferguson, who recently joined
USMarkets, bringsmore than
20 years of experience in sales
management and new business
development from several national
lifting equipment sales and rental
companies. Most recently, he
served as territorymanager for
IronPlanet, an onlinemarketplace
for used construction equipment.
Prior to that, hewas vice
president of sales for Acme Lift.
Ferguson is confident that the
new business sector will meet
are good that we'll have the
equipment customers are looking
for, but if we don't, wewill find
it," he said. "Auctions are in
business to achieve one goal - to
sell each asset for the absolute
top dollar with no regard for
customer satisfaction or retention.
USM is in business to provide our
customerswith the highest quality
equipment at a fair price."
Mike Ferguson, used equipment
manager, pictured here, will
lead the new used equipment
Corporation (HERC), awholly
owned subsidiary of Hertz, has
opened a newU.S. depot in
Great Falls, MT. It said the new
facilitywould deliver specialty
equipment rental solutions for
commercial construction, oil
producers, refineries, mining,
agriculture, publicworks,
and industrial manufacturing.
The new store joinedHERC's
Pacific Northwest 15-branch
Equipment Corp. created a
Christmas tree out of system
scaffold for the holidays.