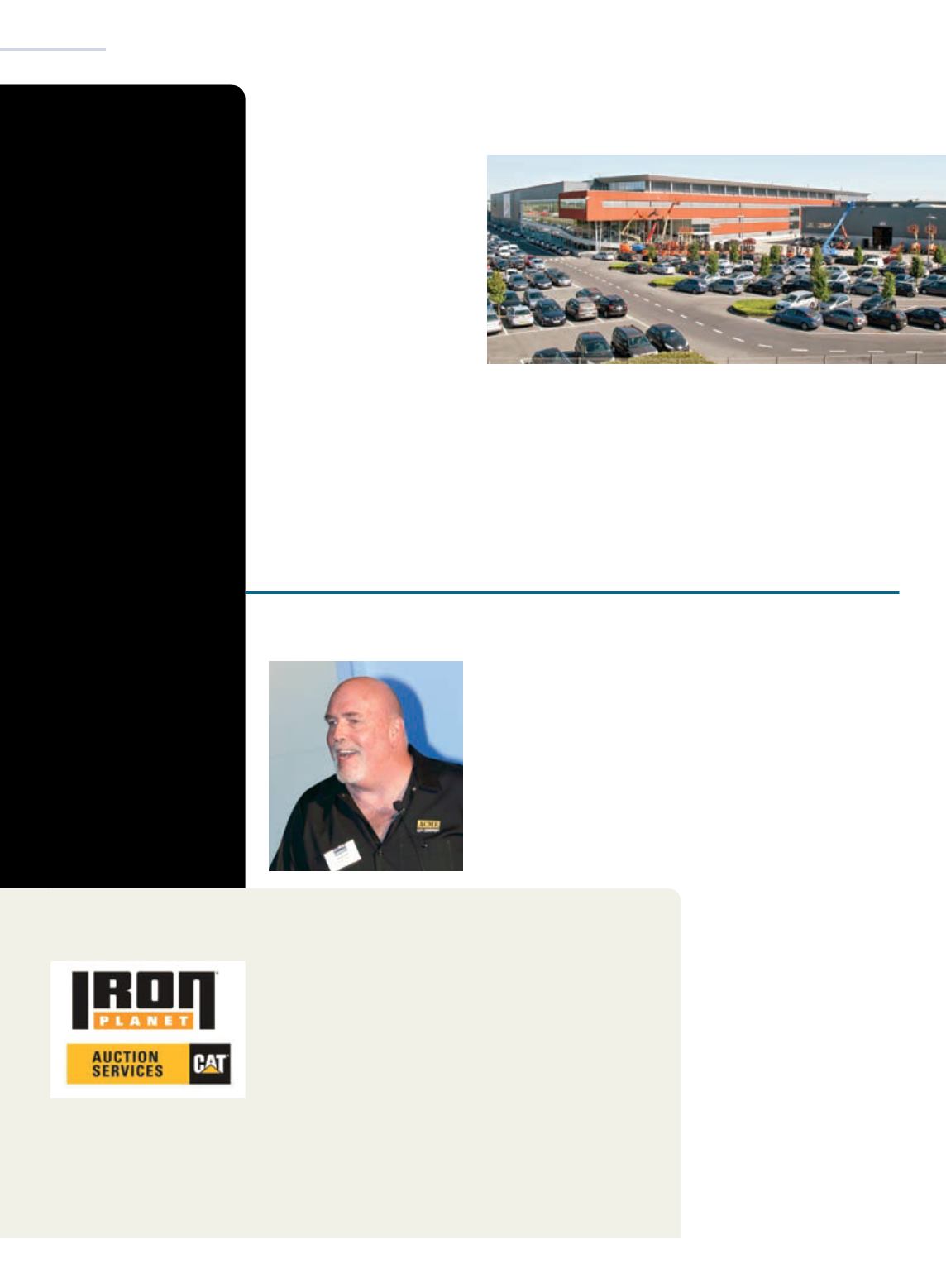 Andy Studdert, chairman and
TVHParts Co. has purchased
C-Tech Industries, LLC. C-Tech
is amanufacturer of electronic
components for the access and
industrial equipment industries.
TVH is a distributor of replacement
parts and supplies for thematerial
handling and industrial equipment
manufacturing division of TVH
andwill continue to focus on the
products it is known for.
"With the acquisition of C-Tech,
wewill increase ourmanufacturing
capabilities for the industrial
equipmentmarket," said Pat
McLaughlin, TVH president. "We
are excited to have theC-Tech
staff join our team. They have a
wealth of product knowledge and
industry experience andwe look
forward to the collaboration of our
teams in the comingmonths."
C-Techwas founded in 1999 by
GregGreene. C-Tech is located in
a suburb of Cincinnati, OHwhere
it will continue tomanufacture
"We believe the addition of
C-Techwill offer considerable
advantages and opportunities to
all customers, furthering the one-
stop-shop experiencewe have
provided to our customers for
over 45 years," saidGregGreene,
C-Tech's general manager.
"C-Tech has always taken pride to
design and build quality products.
C-Techwill now be able to bring
more innovative quality products
to the customer withworld-class
IronPlanet andCat Auctionmerge
IronPlanet has announced amerger with Cat Auction Services – an
alliance of Caterpillar and several of its independent Cat dealers.
"The power of IronPlanet's technology, multiplemarketplace formats
and global buyer base coupledwith Cat Auction Services' live, onsite
auction format will provide themost powerful and complete suite of
auction remarketing tools," saidGregory Owens, IronPlanet CEO.
Gary Trettel, Cat Auction Services, president and CEO, said, "The
live auction format fromCat Auction Services, alongwith IronPlanet's
onlinemarketplaces, will give our customers the innovative solutions they are looking for."
IronPlanet said it has over amillion registered users, while Cat Auction Services has a strong customer base.
The companieswill offer live and online auctionswill backed by a full range of support services.
Themerger sees Owens as chairman and CEO of the combined entity, and the companywill continue to be
headquartered in Pleasanton, CA. Trettel will continue to oversee Cat Auction Services live auction format as
well as serve on the executive committee of IronPlanet. Cat Auction Services' office in Eagan, MN, will remain
open as theMidwest office for IronPlanet.
TVH Parts Co.'s headquarters inBelgium.
Acme Lift secures $109.1million
PNCBank andWells Fargo Capital
Finance, and a $24.1million note
provided byMorgan Stanley Credit
Partners. G.C. Andersen Partners,
based inNew York, acted as
financial adviser and placement
"Acme Lift has a highly effective
businessmodel that does not
require it tomaintain a staff of
sales, maintenance, delivery
people and vehicles, and facilities
in every local market," saidWoody
Weld, Acme Lift's chairman and
chief executive officer. "The local
rental companies typically provide
all the equipment inspections,
billing, routinemaintenance,
temporary storage and local
delivery so that Acme Lift can
maintain a very low cost overhead
infrastructure to operate.
"G.C. Andersen has expertise
in equipment rental, which
allows it to gain an appreciation
of Acme's leadership position
inwholesale equipment rental.
This understanding of our
unique businessmodel enabled
G.C. Andersen to effectively
demonstrate to the financial
community the full value and
growth opportunities of Acme."
Acme Lift Co. has received a
$109.1million investment that
aims to fuel the expansion of the
wholesale rental company.
The financingwas structured
with an $85million senior
revolving credit facility provided by
CEO of Acme Lift, spoke at