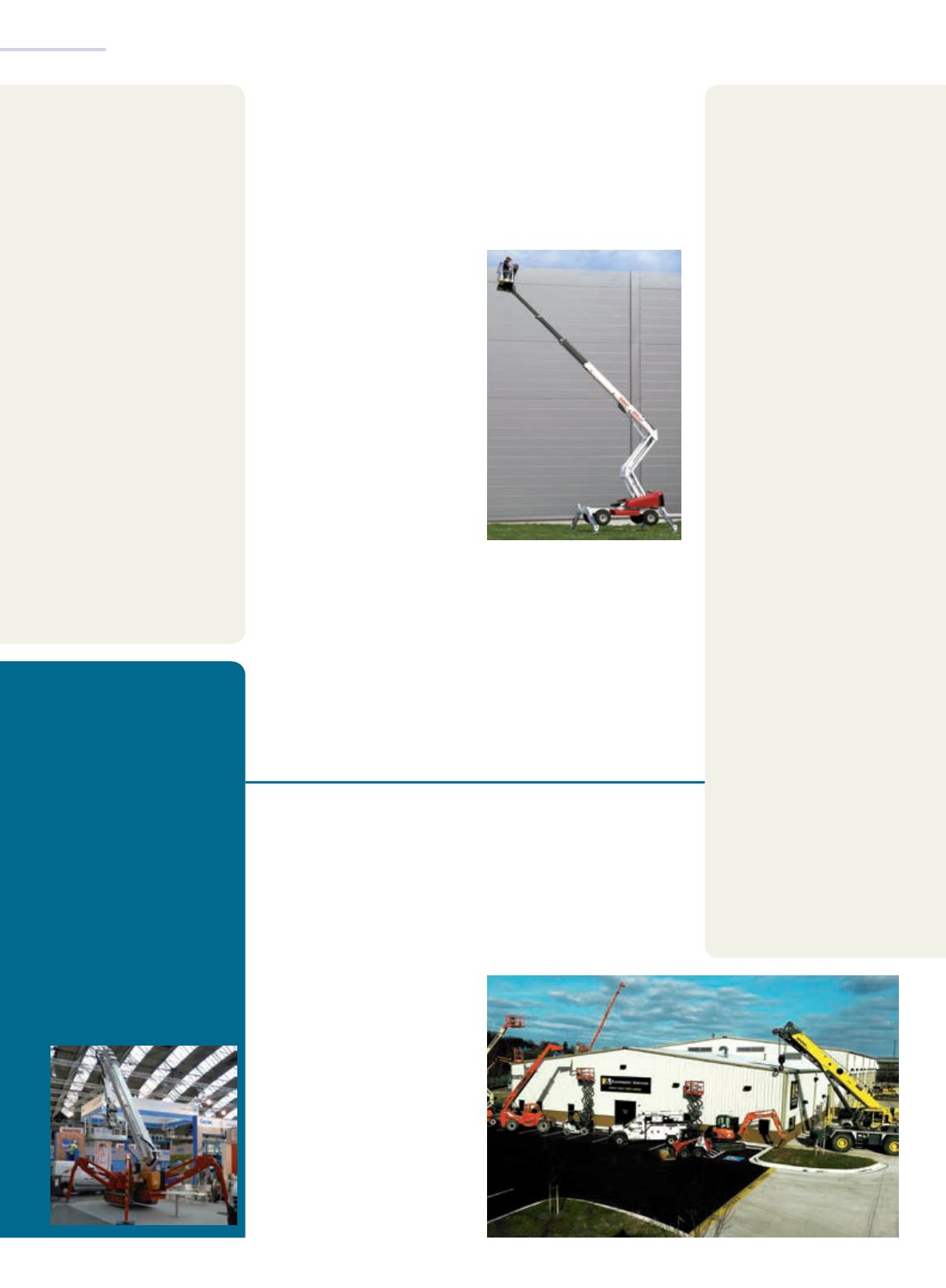 will handle the purchasing
responsible for their analysis
and carewhile they are in the
company's fleet. He hasmore
than 30 years' experience
in inventory control, sales,
supervision, operations, and
marketing and purchasing.
ChelseaMyrick, Acme's new
rental coordinator, will work
withAcme Lift's rental team
and customers in putting the
company's fleet on rent. She has
been in and around the rental
businessmost of her life.
Michael Coad as the company's
new director of sales. Coad has
beenwithUSBattery for nearly a
decade, and in this new position,
will continue to grow theUS
Battery product line through the
company'sOE customers and
Finnishmanufacturer Dinolift has
appointed ReachMaster, Inc. as
its new distributor for the U.S.,
ReachMaster will be responsible
for all Dino sales and after sales
support of the completeDino
range, including its line of Dino
trailer lifts and self-propelled
machines, such as the RXT self-
propelled articulated boom lift
"We are very happy to re-enter
theNorth Americanmarket and
in ReachMaster we have the
right partner to be successful,"
said KarinNars, director of sales
andmarketing for Dinolift. "We
are looking forward toworking
together with Ebbe Christensen
and his professional team."
ReachMaster specializes in
compact and specialty aerial lift
equipment distribution inNorth
America, and represents such
brands as Falcon, Denka, Bluelift
"We are very excited and proud
to be given the opportunity to
re-launch theDinolift brand
Finnishmanufacturer Dinolift
has appointedReachMaster as
has taken delivery of an Easy
tracked lift. It is the first of
its kind in the Americas. The
machine can lift people and
tools up to 116 feet using a
lithium-ion battery pack. The
unit's drive and lift functions
battery. UpEquip said the unit
is ideal for utility, inspection,
window cleaning, painting
and other applications. "Its
it the ideal tool tomake sure
you don'tmiss any business
opportunity," UpEquip said in a
inNorth America," said Ebbe
Christensen, president of
ReachMaster. "It is a perfect fit
and fills a gap in our portfolio
making the ReachMaster range
of high quality lifts unmatched by
anyone in the industry today."
Dinolift celebrated its 40-year
anniversary earlier this year.
H&E Equipment Services, Inc.
recently consolidated its Baltimore
and Jessup, MD branch operations
into one, brand new building in
The new store is located at 2111
Grays Road, Dundalk, MD and
will serve the states ofMaryland,
Delaware and theWashingtonD.C.
H&E said, "The new branch
facility ismuch larger than the
original stores, with 40,000 square
feet of office and shop space that
sits on 15 acres of property. In
order to better serve customers,
new, used and rental equipment
inventories have been expanded.
In addition, a large portion of the
new building has been devoted
to the product support side of the
businesswith 18 service bays
and a 9,000-square-foot parts
chief operating officer Allyn
Archer retired onDec. 31, 2014
after working 43 yearswith the
company. Archer now serves on
the Holt advisory board. Taking
over on Jan. 1, 2015 for Archer
was Holt Cat's executive vice
president and general manager
Dave Harris. Harriswill report
to Peter Holt, chief executive
$26.6million from last year's
$24.7million. Despite the gain
in rental, the company's third
16.1 percent from last year's
$588million to this year's
$493.1million. According to
DavidMeyer, Titan's chairman
and CEO, the revenue decline
agricultural side of business
business and appoint dealers.
The companywas founded in
2011 though internationally,
UpRight has been around since
1947. UpRight specializes in
aluminum scaffolding, which
weighs 75 percent less than
steel. "A bonuswith aluminum
scaffolding is the transportation
and handling, too," the company
said. "If steel were used, a
CDL truckwould be themode
of delivery, many employees
would be carrying and building
it and therewould be loading