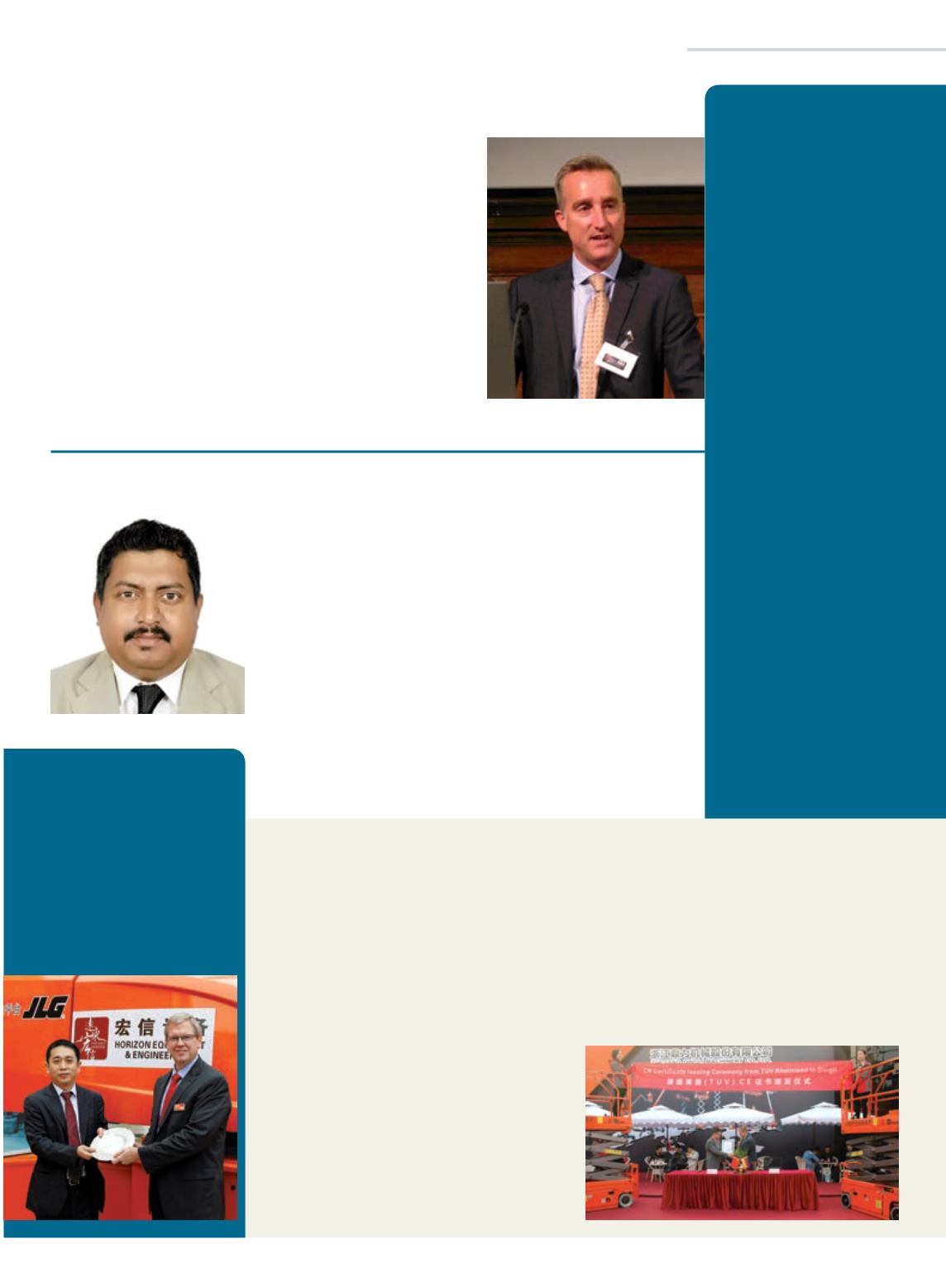 KevinParkes leavingHewden
Kevin Parkes, CEO at UK-based
rental company Hewden, is
Parkes, a former director at
Finning (UK) took over at Hewden
in 2009, leading the business after
the sale to private equity company
Parkes said, "It has beenmy
pleasure to leadHewden over the
past six years, through challenging
reorganized and rebuilt the
business, relentlessly executing
our strategy soHewden is best
placed to take advantage of the
"I wishHewdenwell as they
transition in time to a new leader.
A process I will fully support over
And the company commented,
"Throughout his career Kevin
demonstrated his commitment to
Hewden, thewider construction
"Hemade a strong contribution
to the development and success
of the company andwaswidely
respected by his peer group,
customers and colleagues.We
wish him every success in his
Kevin Parkeswill step down as
Mtandt has appointed Subhamoy
Ghosh as its group president.
years of industry experience to
the India-based company having
served asmanaging director of
experience and leadership to
the group," said RakeshModi,
managing director of Mtandt
Group. "In his role as president,
hewill be responsible for sales
and distribution of aerial work
platforms andmaterial handling
equipment, improving gross
margins and enhancing the
company's profitable growth."
engineer, Ghosh had also been
vice president of ACE, a crane
manufacturer in India. Before
joining ACE he held several
executive leadership positions at
Hyva India, Volvo Trucks India
rental equipment agreements
with A-Plant, Speedy Hire,
Nationwide Platforms and VP.
painted one of its Genie scissor
lifts blue as part of a fundraising
activity to raise funds for
Prostate Cancer Campaign. All
the profits from the lease of the
GS-3246 throughout 2015will
be donated for work to prevent
prostate cancer. The company
also supported the Breast
Cancer Campaign by painting
another lift pink for themonth
presence in the UKwith the
acquisition of Altitude Access.
company has a turnover of
$2.41million, a rental fleet of
180 powered accessmachines
and a depot. The Altitude Access
brandwill be incorporated into
its distributor network in the
UK to support the sale of its
Genie products. It appointed
three dedicated distributors
(APS), which is part of IAPS
Group, Workplatform, and TDL
Dingli appoints TüVRheinland
Dingli has appointedGermany-based TüV Rheinland to provide third party CE certification for its aerial work
A ceremony tomark the accreditation agreement took place at Bauma China 2014 in Shanghai.
China-basedDingli previously used SGS for its certification, and a company spokesman said, "Dingli has
always respected thework that SGS has done to verify and approve its products for CE certification."
Concerning TüV, the spokesman added, "TüV Rheinland has a reputation as one of the strictest certification
companies formachinery accreditation andDingli is looking toworkmore closelywith the company..."
A spokesman for TüV Rheinland explained that the company had beenworkingwithDingli on product safety
and quality for some time. "Today their excellent
brand reputation and overwhelmingmarket
share [in China] accounts for the endeavor and
commitment to the quality from the company's
leadership to its operations. TüV Rheinland is
always here to support local brands' access to the
international market with our great expertise and
A ceremony at Bauma China 2014, pictured here,
markedDingli and TüVRheinland's agreement.
the first 1850SJ Ultra Boom
lift in China. The company's
president, JiayinWang, left,
and JLG Industries' president,