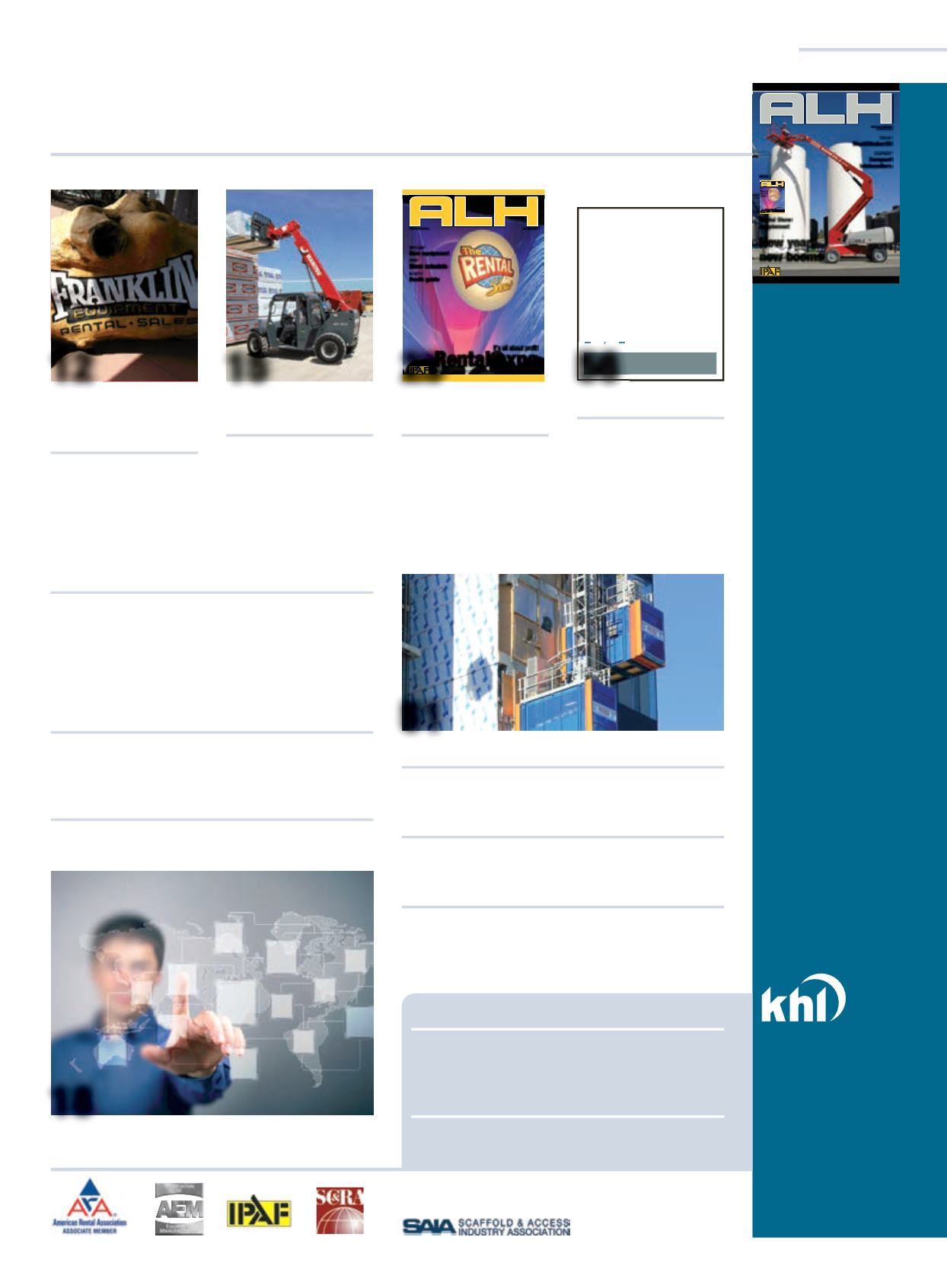 OFFICIALNORTH
AMERICANMAGAZINE
OFFICIALNORTH
AMERICANMAGAZINE
OFFICIALNORTH
AMERICANMAGAZINE
Mast-climbing equipment continues to gain tractionwithin the
takes a look at recent projects andnews.
World of Concrete is set to take place Feb. 2-6 at its usual
provides a guide to the event.
FrankNerenhausen to deliver keynote speech at IPAFSummit;
Open enrollment now available for instructor training; IPAF
networking event set forMarch25 inWashington, D.C.; plus
Printedby Publishers Press, US
©KHLGroupAmericas LLC2015
All rights reserved. Reproduction
inwhole or inpartwithoutwritten
permission is prohibited.
effort to ensure that editorial and
advertising information carried in the
magazine is true and accurate, but
KHLGroup Americas LLC cannot be
held responsible for any inaccuracies
and the views expressed throughout
themagazine are not necessarily
those of the publisher. KHLGroup
Americas LLC cannot be held liable
for anymatters resulting from
the use of information held in the
magazine. The publisher is not liable
for any costs or damages should
advertisementmaterial not be
published 6 times a year by KHL
Group Americas LLC, 3726 E. Ember
GlowWay, Phoenix, AZ 85050, USA.
subscription rate for non-qualified
readers is $150. Free subscriptions
are given on a controlled circulation
basis to readerswho fully complete a
Reader Subscription Form and qualify
under our terms of control. The
publisher reserves the right to refuse
subscription to non-qualified readers.
TVH purchasesC-Tech; IronPlanet andCat AuctionServices
tomerge; Acme Lift secures $109.1million in financing; JLG
reorganizes global AWPmarketing group; USMarkets enters
used equipment sector; Dinolift namesReachMaster as new
NorthAmerican distributor; plus Events, Highlights andBy-
KevinParkes leavingHewden; SubhamoyGhosh appointed
Mtandt president; Dingli appoints TüVRheinland plus
Software has redefined rental business– from big and small.
related toplist enters its
in the KHL portfolio go to:
The place to find Products, Components, Parts &
Accessories, Equipment for Sale or Rent and Services.