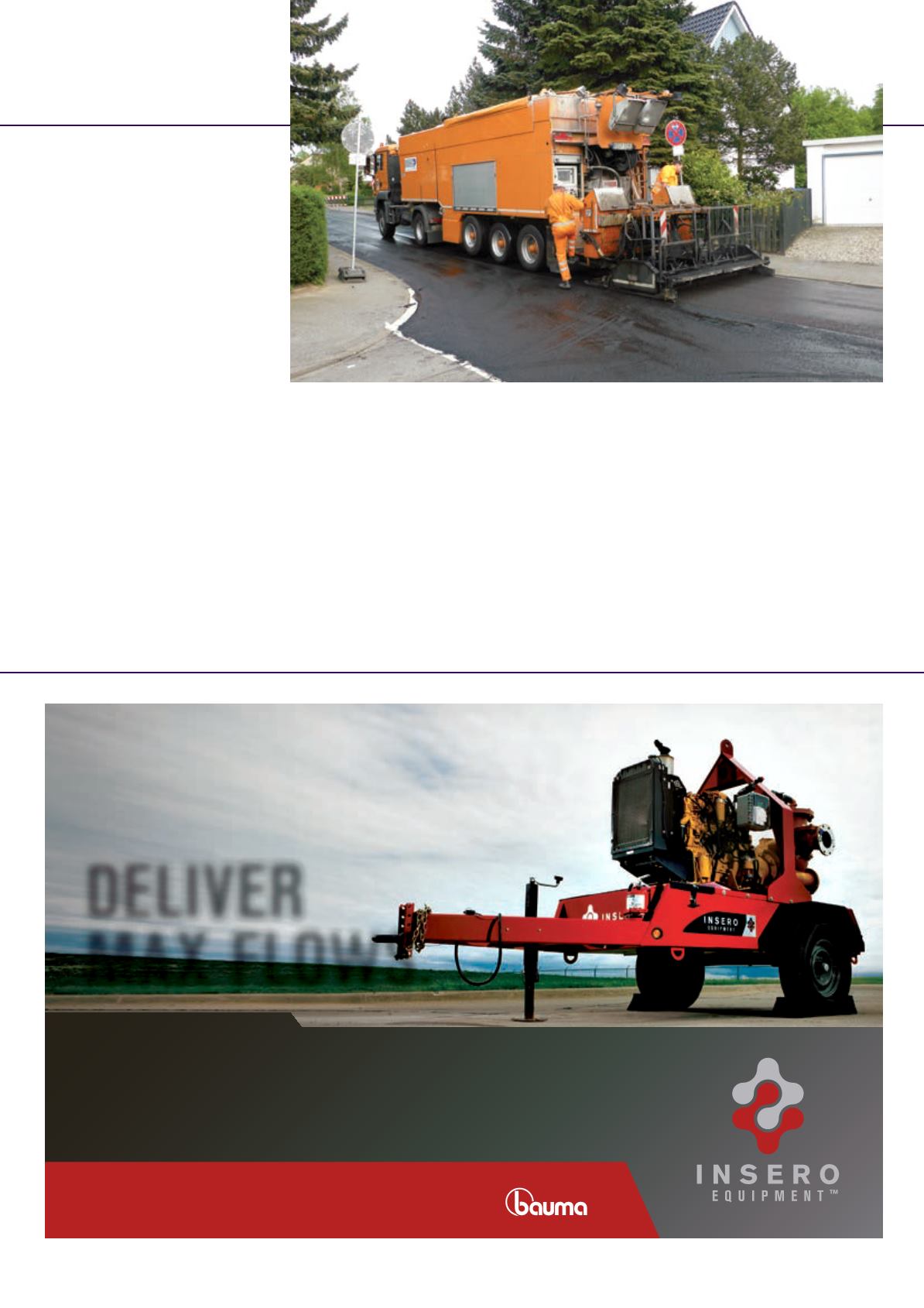 by Missouri, US-based Bloomsdale
Excavating, whichhas been contracted to
a road construction project close to the
town ofMacomb in Illinois, US.
The Route 336 project, valued at
US$ 32millionwas awarded to Bloomsdale in July last year by
the IllinoisDepartment ofTransportation (IDOT) and includes
building 6.5 miles (10.5 km) of a four lane highway on US
Routes 336 and 110.The project will require pre-grading work
and the construction of drainage structures on a new section
of the roads, as well as the reconstruction of county highway
14, which is located to the west of Macomb. It also includes
10 miles (16 km) of grading and clearing, and the installation
There are 48 machines on site, including 22 Volvo A40F
articulated dump trucks (ADTs), 13 with the company's Full
Suspension (FS) system and nine with standard suspension.
Bloomsdale is using the FS units with a 25.2m
K-Tec Earthmovers to move loose dirt. The company uses its
standard units for other tasks, such as rock hauling.
The FS system cushions the impact of the K-Tec hitch and
the automatic cushion ride on the scraper itself makes for a
formidable combination in terms of speed, operator comfort
and productivity – while minimising the risk of equipment
Scott Drury, president of Bloomsdale Excavating, said he
was pleased with the combination, "Productivity on site has
increased as the machines never need to stop. Our operators
work 10 hour shifts and the Volvo haulers clock about 2,000
hours on average a year," he said.
This all goes to show that whether the road project is concrete
or asphalt, or whether it is in the paving or earthmoving
stage, equipment manufacturers have a lot to offer that can
shorten project timelines, cut costs and improve efficiency and
Micro surfacing, which involves laying
a 10mm or so layer without major
preparation such asmilling, is gaining
popularity as a resurfacing technology.
Pictured is a Schaefer SMS 12000
carrying out such a job in a German
QUALITY ENGINEERED
PUMPS BUILT TO
View additional products or become an Insero Dealer at:
InseroEquipment.com
+
1402.861.2970
Insero Pumps provide the power you need to pumpwater faster and farther. With high
mOW RATES THAT PUMP UP TO MOREWATER PERMINUTE )NSERO 0UMPS OUTPERFORM THE
COMPETITION RESULTING IN UP TO
VISIT US AT BAUMA CHINA.
LAUNCHING PRODUCT LINE TO ASIANMARKET.
DELIVER
MAX FLOWS.