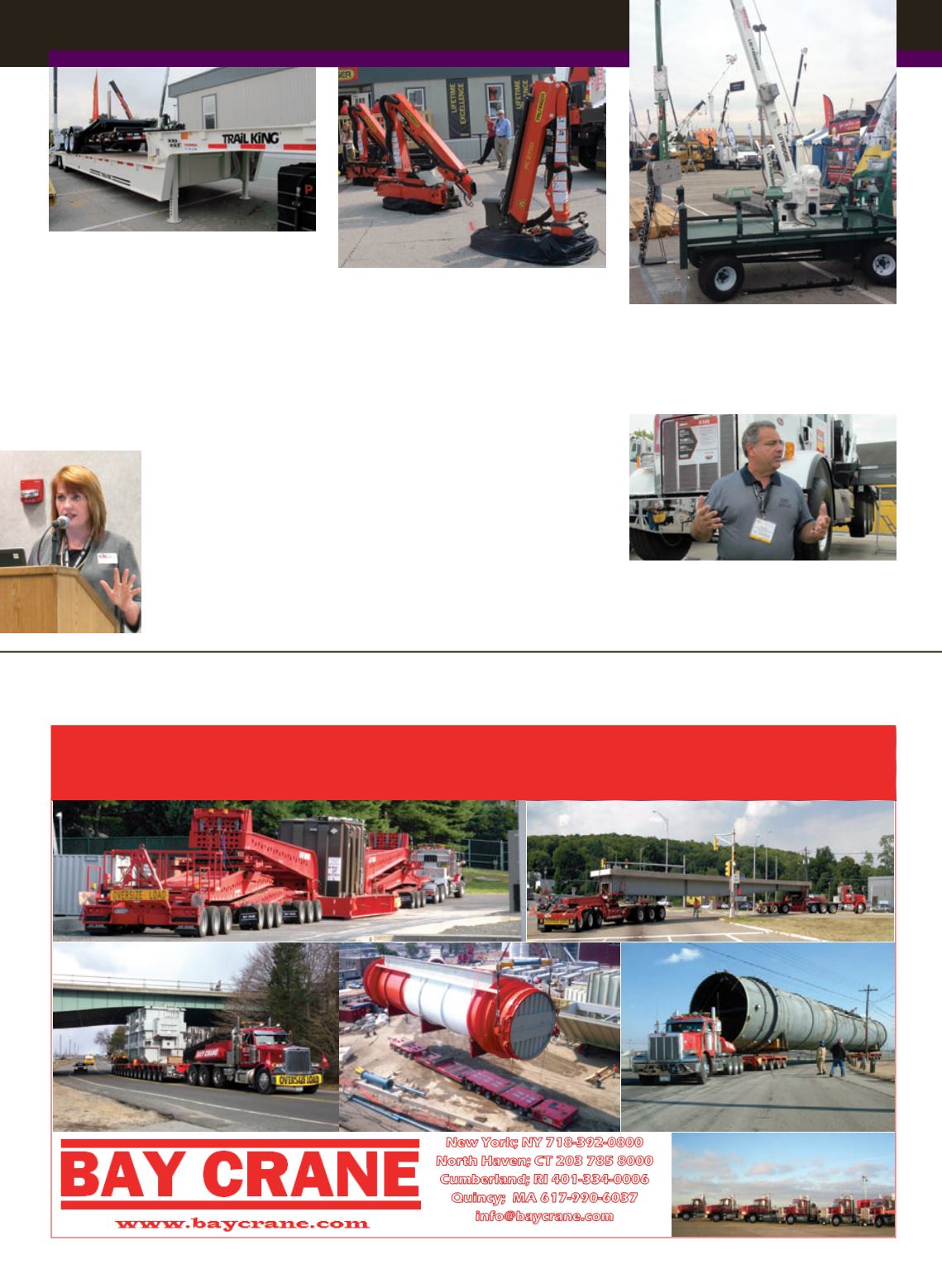 ICUEE
ACT
Boom trucks in all styles and capacities
were shown, with National, Manitex,
Elliott and Altec launching new models.
Popular this year were boom-trucks
mounted on crawler tracks, sort of a small-
scale hybrid telecrawler. Elliott, Altec and
National showed these machines, and
Load Systems International launched its
latest product, the LSI-Robway wireless
GS026 Wind Speed Sensor. Also new at the
LSI stand was a mini crane outfitted with LSI
products.
U.S. trailer manufacturer Trail King showed
a variety of trailers that are suitable for
moving equipment to and from a jobsite.
Debbie Dickinson, Crane
Institute Certification,
discusses new programs
on tap for CIC in the
coming months, including
certifications for
operators of service/
mechanic trucks, digger
derricks and articulating
cranes.
Fred Ross of Custom Truck and Equipment
discusses product updates at the Elliott
Equipment stand, including the 40-ton Elliott
4014R boom truck.
The Palfinger stand showed a variety of the
company's articulating crane options. The PK
34002-SH High Performance Crane features
lightweight construction, ease of maintenance,
power, maneuverability and controllability.
Manitex announced its intent to add one
Link-Belt Marketing Specialist Scott
Knight summed up the show: "Link-Belt
was pleased with telecrawler activity in our
booth. We knew going into this show that
our telecrawler lineup is on the higher end
of the shopping list for many attendees.
In turn, we looked for the quality of
customer that we spent time with and not
necessarily getting big numbers of 'foot
traffic' through our area."
The next ICUEE will be held September
29–October 1, 2015 in Louisville, KY.
New York; NY 718-392-0800
North Haven; CT 203 785 8000
Cumberland; RI 401-334-0006
Quincy; MA 617-990-6037
Transportation & Rigging Solutions for all your heavy haul needs
Bay Crane offering the northeast's largest and most modern fleet of cranes, full service heavy lift, and project transportation.